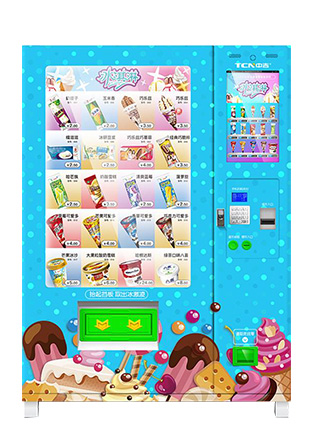 OVERVIEW
High-strength & powder coated cabinet with fully insulated material and an energy-efficient vending unit.
Secure door with wrap-around enclosures
LED lighting
22-inch LCD screen
Triple glazed viewing window.
Dual spirals on-chip trays.
Each tray tilts down 45 degrees for fast & easy loading.
Adjustable tray partition and height.
Secure /lockable cash box.
Temperature sensor (4 to 25 degrees Celsius adjustable)
Modular cooling system, easy to maintain.
Drop sensor/Vend Assure TM / vend sensors
The delivery system is guaranteed (holds credit until the product is delivered).
GPRS remote monitoring system delivers real-time live information.
A glass Heater is embedded in the glass to prevent condensing of moisture.
Excellent capacity and size ratio.
Flexible layout for snacks, fresh food, cans, and bottles
Energy-efficient compressor, etc.
The cooling system with R134a refrigerant meets the ROHS requirement.
Overall foaming technology, 40mm formed, provides superior temperature insulation
VENDING
Generate sales 24/7
Minimal labour cost or rent business
Customise the layout for your needs
Stock your preferred products
Retain 100% of the profit
National service and technical support
SPECIFICATIONS
High-capacity vending machines
DEX port available
Front Glass Vending machine with cooling
Bill, Coin, Coin Dispenser (MDB Protocol)
Drop sensor system, guarantee delivery
DIMENSIONS
Outside:
H: 1940mm, W: 1384mm, D: 875mm
Slot details:
6~10 spring tray (adjustable)
Weight:
370kg
Products:
270~680
Storage capacity:
300pcs of frozen suckers, bottled ice cream (size dependent)
Frozen temperature:
-18c~-22°c
Rated voltage:
100-220V, 50/60Hz
Power:
375W
OPTIONAL
Conveyor belt option to replace spirals
Remote control by GPRS, management software
Bill acceptor and coin mechanism configured at the factory (MDB Protocol)
Signage wrap
Card reader payment device (Nayax):
Credit Card
Apple Pay
Android Pay
We ChatPay
Alipay
STANDARD HELIX CONFIGURATION (VARIOUS CONFIGURATIONS AVAILABLE)
ITEM
QUANTITY
Chips
7
7
7
7
7
Chips
7
7
7
7
7
Chocolate
15
15
15
15
15
15
15
15
15
15
Bottles
5
5
5
5
5
5
5
5
5
5
Cans
5
5
5
5
5
5
5
5
5
5
Cans
5
5
5
5
5
5
5
5
5
5