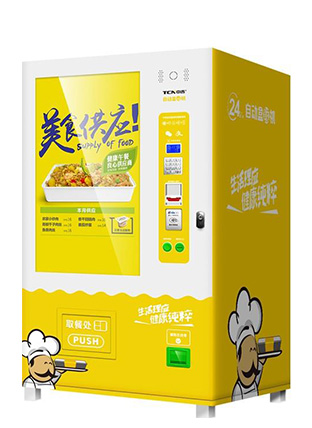 OVERVIEW
Four cold & four hot, instant drinks
High strength & powder coated cabinet with fully insulated material, energy-efficient vending unit
Secure door with wrap-around enclosures and LED lighting
Triple glazed viewing window
Dual spirals on-chip trays
Each tray tilts down 45 degrees for fast & easy loading
Adjustable tray partition and height
Secure /lockable cash box
With temperature sensor (4 to 25 degrees Celsius adjustable) Modular cooling system, easy to maintain
With drop sensor/Vend Assure TM / vend sensors/guaranteed delivery system. (holds credit until the product is delivered)
GPRS remote monitoring system delivers real-time live information
Glass Heater embedded on the glass to prevent condensing of moisture
Excellent capacity and size ratio
Flexible layout for snacks, fresh food, cans, and bottles
Energy-efficient compressor, etc
Cooling system with R134a refrigerant can meet the ROHS requirement
VENDING
Generate sales 24/7
Minimal labour cost or rent business
Customise the layout for your needs
Stock your preferred products
Retain 100% of the profit
National service and technical support
SPECIFICATIONS
Dimensions:
H: 1940mm, W: 13965mm, D: 790mm
Weight:
440kg
Merchandise:
60 choices
Storage capacity:
350~1050 (depending on size)
Interior:
Six drawers
Cooling temperature:
4°~25°c
Maximum power:
1800W
Warm water capacity:
1.8L
Coldwater capacity:
1.9L
Cup quantity:
350~1050 pcs
Beverages:
4 hot and 4 cold
Water supply:
Pump or external
LCD screen:
19 inches
TECHNICAL DATA & DIMENSIONS
Dimension:
1941mm*1100mm*1153mm
Weight:
450kg
Capacity:
30 (canned, bottled, boxed & flexible)
Type:
234-~278pcs (dependent on size of goods)
Rated voltage:
Single-phase AC220-240V/50HZ
Temperature:
4°C – 25*C (adjustable)
Power:
AC 100-240V 50/60hz
ELECTRONICS
Electronic multiple pricing accessed through keypad-(Flexible Individual Pricing)
Complete diagnostic program accessed through a keypad.
The entire unit and value line by line sales audit
Illuminated scrolling message display.
Compatible with all leading MDB electronic change giving coin mechanisms, cashless and telemetry systems
Integral, push-button, mains safety circuit breaker
24v DC Motors, Motorized Vending Mechanism.
Electrical Supply, AC 85-265V, 50/60HZ.
OPTIONAL
Can customise IC payment Alipay, sound control payment, bank card flash payment, finance IC payment, Wechat payment, two-dimension code payment, mobile phone payment, credit card payment, and other payment systems
Can customise 22 inches advertising /touch screen or 7 inches touch screen, industry computer or Android system
Human-computer solid interaction interface, and can use the customisable picture carton and video, etc. multimedia
The form that dynamic offers to humanised interaction operation. And can through WIF/i, 3G,4G etc. network that realises to remote real-time control update and issues the multimedia files.
It can be customised to provide secondary development.
Can customise accumulated slots to sell complicated shape bottles and flexible packages
Can customise surveillance camera, can set GPRS bulgar alarm system, support emote monitoring surveillance Alarm, propaganda video and other functions
Can extend networking function, can combine self-service network at any moment
The above models can accept customers' non-standard modifications.