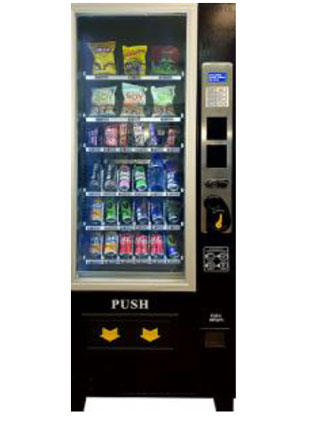 SPECIFICATIONS
Small capacity drink and snack vending
Black and white available
Bright LED Lighting
Stainless steel keyboard
Plug-touch connections
One-click replenishment
Programming flexibility
Front Glass Vending machine with cooling
Double heated glass for reduced condensation
The drop sensor system guarantees the selected item, or money returned
Multi-price coin mechanism; Dollar bill acceptor; foreign coins acceptor; change in seconds.
Vend a variety of products from the same machine
Compact size: Allow more mobility, more locations; indoor or outdoor.
Removable and adjustable trays.
Sturdy steel construction with durable powder coat painted surfaces for years of service.
Large display window shows selections, large merchandise view space.
STANDARD HELIX CONFIGURATION (VARIOUS CONFIGURATIONS AVAILABLE)
ITEMS
QUANTITY
Chips
7
7
7
Chips
7
7
7
Chocolate
15
15
15
15
15
15
Bottles
5
5
5
5
5
5
Cans
5
5
5
5
5
5
Cans
5
5
5
5
5
5
DIMENSIONS
Outside:
H: 1940mm, W: 730mm, D: 790 mm
Weight:
260kg
Merchandise:
30-50 different products
Storage Capacity:
approx. 130~300 pcs – dependent on the size of products being sold
Cooling Function:
Compressor refrigeration,4-12°C (adjustable)
Rated Voltage:
110V/220V,60Hz/50Hz
Power:
375W
OPTIONAL
Remote control by GPRS, management software
Bill acceptor and coin mechanism configured at the factory (MDB Protocol)
Card reader payment device(NAYAX)
Credit Card | Apple Pay | Android Pay | WeChat Pay | Alipay
BENEFITS
Generate sales 24/7
Minimal labour cost or rent business
Customise the layout for your needs
Stock your preferred products
Retain 100% of the profit
National service and technical support